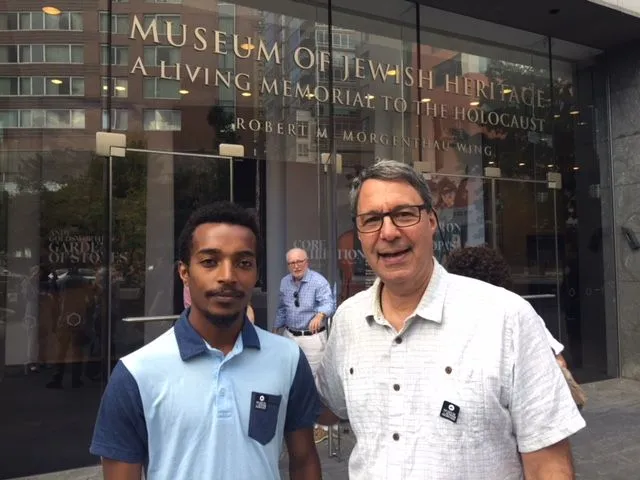 I am at the Museum of Jewish Heritage in NYC with college student Abere Endeshaw Kerehu from Ethiopia. With tears in our eyes, we are viewing pictures of starving families and children in the Lodz Ghetto during World War II.
We move on to a tiny exhibit of Ethiopian artifacts. A handcrafted metal Jewish Star of David. For centuries, Ethiopian Jews could not own land. The men learning to forge metal, the women to fire pottery. I wonder at the size of this display, the few faces of color peeking out in a sea of white.
Clustered in Addis Ababa and Gondar in 2018 are 8,000 souls with Jewish roots, waiting to join their families in Israel . Two thirds of these are under the age of 18 and over 2,000 are young children. Reports from Ethiopia: Over 100 malnourished pregnant women carrying babies at risk of birth and developmental defects. Families being charged double and triple rent by landlords who think they can get it from the Jews. Children languishing in classes of up to 100 students with only two textbooks for all of them. Parents who cannot afford the required uniforms for government schools, their children now at risk to drop out.
A father forced to choose between buying food and medical care for his family. A teenager paralyzed and homebound who could walk again, if only he could afford the operation to repair his spine or get to Israel….
The sun streams onto our faces as we stand in the Museum's rooftop, among trees emerging from stone, the work of artist Andy Goldsworthy, a non-Jew who was touched by the Holocaust. Across the river, the Statue of Liberty glistens in the distance. Monday. Abere and I along with activist Rachel Makleff visit with the Jewish Joint Distribution Committee that used to run health clinics in Addis and Gondar before they were closed in 2013. Behind a thick glass partition, the young security guards peruse our I.D. and buzz us in. We are ushered in past rows of computer stations divided by silver-metal sheathed partitions where 20-something staffers do the hard work they have done for over 100 years, saving Jews around the world.
Abere, a man of color in a yarmulke. The staffers look up from their work and smile. I am new to all of this. The "big league" of Jewish philanthropy and good works. The men we meet with have over 30 years of experience. They are realists. No, they cannot re-open the health clinics. They advise us that the Jewish Agency in Israel which receives $200 million from U.S. sources could act. Tomorrow, planes could be loaded with the remaining families….
I think back to the Museum. Of over 200,000 Jews in Lodz, 70,000 died of starvation and disease within the first few years of the war. Only 10,000 survived in 1945.
I think of Ethiopia and a photograph received from another student in Gondar, the fresh grave of his grandmother in the Jewish cemetery. She died, still longing for Zion.
Please follow ONE FAMILY and The Family Threads Project on Social Media by clicking the icons below!
And the Project on Power Poetry
---